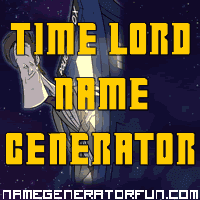 Your time lord name is: The Adjuster

Your original Gallifreyan name is Nesillwindathloomzontan, or Nesill for short. Back on Gallifrey, you led a dull and uninteresting life, working as a Transduction Barrier supervisor, based in the Capitol – but now, you travel Time and Space in search of adventure!
Your Type 41 TARDIS is currently stuck in disguise as a VW Camper van, and your latest travelling companion is an art student from 1982 London, with a thirst for adventure and a knack for getting into trouble.
Get your own time lord name from the time lord name generator!